Paisley Lace Shawl (and a lesson in fixing missed yarn-overs)
As promised, here are pictures of the IK Paisley Lace Shawl. I'm knitting this with Frog Tree Alpaca, in color #95 on US5 Addi Turbos. I really like the Frog Tree alpaca - it is so soft and fun to knit! I'm planning to wear this shawl to my brother's wedding in July.
The circular shawl blob - you can't see much of the pattern here...
Here's a close-up of the stitch pattern. I think that the pattern will look great after blocking.
The lace pattern is really easy, and it has been a quick knit so far. I am on repeat 8 of 13 now, but the going is slower each round because of the increases. I've found that I really enjoy knitting lace - I think because I'm mathematically minded and I like understanding how varying the number/type of stitches creates patterns.
The pattern is essentially rows of knit, K2tog, and YO stitches alternating with full rows of purl stitches. I've found that when I get in a groove, I sometimes miss a yarn-over after a K2tog, and won't realize it until I knit a full round and get to the point in the purl row where the yarn over should be. This is a problem, because the yarn-overs create the holes in the lace pattern and a missing YO equals a missing hole. (and it also messes up the stitch count!) At first, I would frog a whole row to get back to the place where I missed the yarn over, add the YO, and re-knit. That worked fine until my rows started getting longer, and I was tired of frogging and reknitting. Then I decided to take a look at the knitting to see if I could somehow fix the missing yarn-over without frogging. I ended up figuring out a way to do it! I was totally excited when I figured this out. It is probably nothing new for most lace knitters. Here's what I learned:
This is what yarn-overs normally look like in this pattern. You can see that the lace holes are formed where the YOs are placed.
Here's what happens when I start knitting too quickly and forget a YO. I never find this until one row later...
To fix the missing YO, you have to find the yarn that is lying horizontal between the stitches: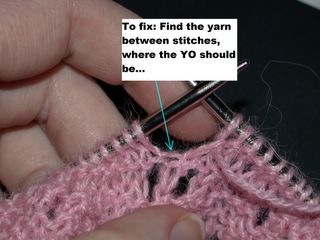 Pick the yarn up as shown. This is just like a M1.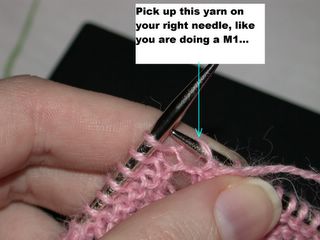 ...and place it on the left needle: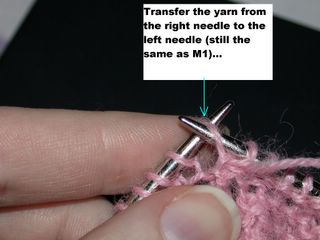 Hey, look! A YO!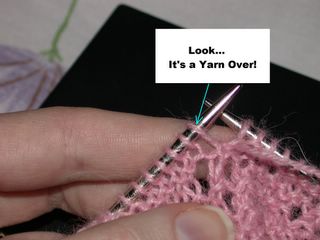 Now, purl (or knit) the newly formed YO...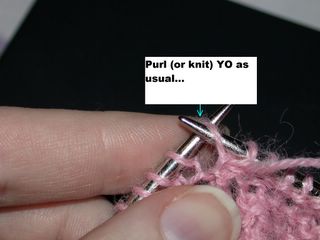 And, voila! Lace! No frogging required!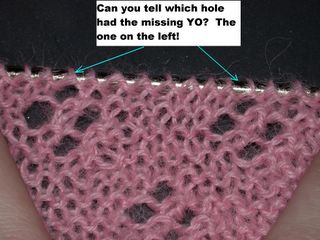 This will only work if you catch the missing YO on the row after the mistake is made.
I hope that was helpful, or at least interesting to you. I'm not an expert at the whole knitting thing yet, but one of the things I like about blogs is seeing how others do things and solve problems. So I thought I would share this in an effort to contribute something meaningful to the knitblog community.